« The Growing Church: Part 4 | Home | You Know You're in a Small Town When . . . More from the Boerne Police Blotter »
By Mark D. Roberts | Wednesday, July 2, 2008
Part 5 of series: The Growing Church: A Bible Study in Ephesians 4
Permalink for this post / Permalink for this series
This is the fifth and final part of my address to the Presbyterians for Renewal breakfast at the General Assembly of the PCUSA. So far I've covered the following: preface; overview of Ephesians 1-3; God's plan for the cosmos and the role of the church in this plan; the call to seek unity; the role of pastors as teachers; the calling of all Christians to be ministers of Christ; the call to the church to grow up in maturity and size; the measure of maturity in terms of how the church reacts to "winds of doctrine" in the culture. Yesterday's post dealt with the call in Ephesians 4:15 to grow up by "speaking the truth in love." I focused especially on the "speak the truth" part of this phrase. Today I'll pick up the rest.
. . . in Love
But, speaking the truth is not the end of it, is it? We are not just to speak the truth, but to do so in love. Whenever truth-speaking is mixed with haughtiness, whenever it's combined with arrogance, whenever the truth is delivered so as to hurt people, this falls short of Ephesians 4. The church will grow as we speak the truth in love. Truth needs love to be communicated rightly. Love needs the truth to be expressed rightly. In the church of Jesus Christ, truth and love can never be separated, because both reflect the God who is both truth and love.
Speaking the truth in love means that we communicate "with all humility and gentleness," as we read in Ephesians 4:2. It means we don't return anger for anger, attack for attack. When we are maligned, we offer a word of peace. When we are misrepresented, we clarify without malice. Though the wind of our culture urges us to wage war with words, the call of the Gospel compels us to wage peace through our words.
But speaking the truth in love entails more than just talking in a kind and respectful way. It also has to do with living in loving relationship with one another. Our responsibility as leaders in our churches is to create communities of trust and intimacy so that people can speak truthfully with each other. Our churches need to be places where we can say: "I know this is hard, but I believe Scripture is calling you to stay in your marriage;" or "I'm so attracted to a colleague at work that I'm tempted to leave my wife;" or "God has not abandoned you even though it might feel like he has;" or "I'm just not sure I believe in God anymore;" or "This is the body of Christ, broken for you."
Don't you yearn for the PCUSA to be a church where we speak the truth in love, where we're unashamed of God's revelation in Scripture, and where we communicate that revelation with tenderness and compassion?
Don't you yearn for the PCUSA to be a church that proclaims the good news of God's plan to unite all things in Christ, and that demonstrates this good news by our own unity in Christ?
Don't you yearn for the PCUSA to be a church that profoundly engages the culture around us while preserving the truth delivered to us in Scripture?
Don't you yearn for the PCUSA to be a church that grows up in every way into Christ as we speak the truth of Christ in the way of Christ?
Some of you will have the chance, indeed, the responsibility, to do this very thing in the next few days. The debate in the General Assembly will no doubt be hot and heavy at times. I expect some people will say things you'll find offensive and hurtful. Your deep convictions will surely be criticized, maybe even derided as antique or bigoted. It will be tempting to abandon ship and head for a safe harbor where the winds of doctrine aren't blowing your way. Or you may want to stand up and hit back, an eye for an eye and a tooth for a tooth. But even in the midst of such understandable temptations, I pray God will give you the grace to speak the truth in love. Speak with humility. Speak with gentleness. Speak with conviction. This is the only way we have any hope of growing back to wholeness as part of the body of Christ.
As Each Part is Working Properly
Even as I say this, you might be secretly thinking that you don't matter. In an Assembly full of pastors, theologians, and learned people, how will your voice make a difference?
May I remind you of how Ephesians 4:15-16 ends. We will grow up as the body of Christ, it says, "as each part is working properly" (4:16). As each part is working properly! That's how God has joined and knit together the church. Each part matters, including you. So don't dismiss your importance to the process you're about to enter as a delegate to this General Assembly. Your job isn't to guarantee any particular outcome. It's to be faithful to live out your calling, and this means doing your part of speaking the truth in love.
But whatever happens here in San Jose in the next few days, our churches won't experience the renewal for which we pray until each part begins to work properly. My friends, I know I'm speaking to the choir here, or perhaps I might say these days, to the band. You're the folks who are working properly in your churches, no doubt doing your share and so much more. So I'm not sending you back to your home church with more work to do.
But I am suggesting that you and I need to think and pray about how we can help our churches become bodies in which each part works properly. How can we help our fellow pew sitters realize that they really matter? How can we set our pastors free to be the pastor-teachers they are called to be, so that they might equip every member for ministry? How can we become churches in which all of us embrace our high calling to be ministers of Jesus Christ, both in the church and in the world?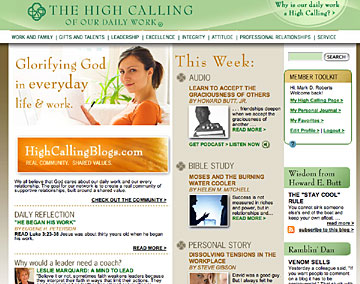 I don't know exactly how to answer these questions, but I'm working on it. Truly. My passion for the ministry of God's people is one of the main things that led me to leave my beloved congregation in Irvine and join the team at Laity Lodge. One of my main responsibilities there is to discover how to help churches equip and empower God's people for ministry. So I'll keep working away on this issue, and I look forward to your partnership. As I discover ways to help the people of God live as the ministers they're called to be, I'll let you know what I find. But what I do know for sure today is that the way forward for us is centered in speaking the truth in love. In this way we will indeed grow up into Christ. (Photo: In The High Calling of Our Daily Work, a website associated with Laity Lodge, we explore ways people can live out their faith in the workplace.)
Conclusion
I will conclude with the benediction at the end of Ephesians 3. This is, in fact, the last thing I said to Irvine Presbyterian Church as its pastor. This text is full of hope and power. So, listen to the Word of God. Believe it, and live it!
Now to him who by the power at work within us is able to accomplish abundantly far more than all we can ask or imagine, to him be glory in the church and in Christ Jesus to all generations, forever and ever. Amen. (3: 20-21)
If you would like to read my original PFR address in its entirety, without the pictures or the daily blog breaks, you can download a PDF version here.
Topics: Growing Church |
2 Responses to "The Growing Church: Part 5"
Jeff Richards Says:
July 2nd, 2008 at 12:19 pm

"Truth needs love to be communicated rightly. Love needs the truth to be expressed rightly." I had to stop here: This is wonderful.

Mark Roberts Says:
July 2nd, 2008 at 1:51 pm

Jeff: Thanks!
Comments
Thanks for your willingness to make a comment. Note: I do not moderate comments before they are posted, though they are automatically screened for profanities, spam, etc., and sometimes the screening program holds comments for moderation even though they're not offensive. I encourage open dialogue and serious disagreement, and am always willing to learn from my mistakes. I will not delete comments unless they are extraordinarily rude or irrelevant to the topic at hand. You do need to login in order to make a comment, because this cuts down on spam. You are free to use a nickname if you wish. Finally, I will eventually read all comments, but I don't have the time to respond to them on a consistent basis because I've got a few other demands on my time, like my "day job," my family, sleep, etc.
You must be logged in to post a comment.