« The Growing Church: Part 3 | Home | The Growing Church: Part 5 »
By Mark D. Roberts | Tuesday, July 1, 2008
Part 4 of series: The Growing Church: A Bible Study in Ephesians 4
Permalink for this post / Permalink for this series
This is the fourth part of my address to the Presbyterians for Renewal breakfast at the General Assembly of the PCUSA. So far I've covered the following: preface; overview of Ephesians 1-3; God's plan for the cosmos and the role of the church in this plan; the call to seek unity; the role of pastors as teachers; the calling of all Christians to be ministers of Christ; the call to the church to grow up in maturity and size; the measure of maturity in terms of how the church reacts to "winds of doctrine" in the culture. Now on to Part 4 . . . .
Speaking the Truth . . .
Ephesians 4 shows us the way forward in our growth as a church. It comes in verses 15 and 16:
But speaking the truth in love, we must grow up in every way into him who is the head, into Christ, from whom the whole body, joined and knit together by every ligament with which it is equipped, as each part is working properly, promotes the body's growth in building itself up in love.
Notice the imperative "we must grow up in every way." Growth is not an option we can take or leave. It's God's command for us. And, once again, growth isn't limited to one dimension, either quality or quantity. We're to grow up in every way.
How? What's the key to healthy church growth? Speaking the truth in love. In contrast to being blown about by every wind of doctrine, we are to be people who know and speak the truth. One of our Great Ends as a denomination is "the preservation of the truth" (G-1.0200). Moreover, we affirm that "truth is in order to goodness," that true belief is the essential foundation of right action (G-1.0304).
And where do we find this truth that leads to goodness? For centuries, we Presbyterians have affirmed that the truth once came to us in the Word of God made flesh, in Jesus the Christ. And now it comes to us in the Word of God written, the Scriptures of the Old and New Testament. The written Word, like the incarnate Word, has both human and divine characteristics. But in the mystery of biblical inspiration, God has spoken authoritatively in Scripture, which is therefore worthy of our study, our belief, and our obedience. Thus in the first chapter of the Book of Order we read that "[i]nsofar as Christ's will for the Church is set forth in Scripture, it is to be obeyed" (G-1.0100c). The same is true for our personal lives as Christians.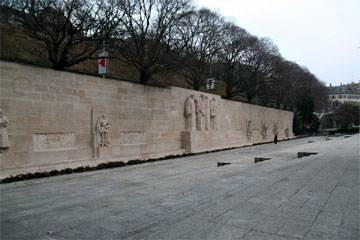 Of course I'm saying nothing new here. The authority of Scripture is the bedrock of the Reformation, upon which Presbyterians have built a house that has stood for centuries. But in recent times, other authorities have vied to replace the Bible as our chief authority. Some folks have argued that we ought to put our trust more in reason than in Scripture. Science will reveal the truth to us, we're promised. Others have sought to reduce biblical teachings to a few simple, plastic truths, such as the call to love. We assume the freedom to mold love into anything we want it to be in any given situation. Thus Scripture ends up calling us to do whatever we want to do. But the most pervasive competitor to biblical authority today isn't reason or reductionism. It's emotion. Today's credo, "I feel, therefore I am," offers the ultimate source of truth. I can't tell you how many times in the last twenty years I've heard faithful Presbyterians say, "Yes, I know that's what the Bible teaches. But that just doesn't feel right to me." Personal emotion and subjective experience trump God's Word. Of course if it turns out that your feelings and my feelings don't line up, then we have no external arbiter. So truth becomes a matter of power. The one with the most power defines the truth. (Photo: the Reformation Monument in Geneva, Switzerland)
I believe the greatest need in our church today isn't a new Book of Order, or a new missional consciousness, or a new outreach to younger people, or whatever else is on the agenda, no matter how valuable these things may be. The greatest need in our denomination is a reaffirmation of the truth of God as revealed in Scripture. Only then will we be people who can speak the truth. Only then will we be able to turn the tide of denominational decline so that we might begin once again to grow up in all ways into Christ.
I know full well that what I've just said is offensive to the majority of Americans. According to the recent Pew survey, it may well be offensive to most Presbyterians. But, while I freely admit my own limitations in discerning the truth, and while I'm quite sure that I sometimes get the truth wrong, I nevertheless believe that God makes his truth known in Scripture, and that the church will never be healthy until we speak this truth among ourselves and to our world.
To be continued . . . .
Topics: Growing Church |
2 Responses to "The Growing Church: Part 4"
RevK Says:
July 1st, 2008 at 4:14 pm

Needs to be said, so keep preaching it!

Your picture is on this page:

http://www.pcusa.org/ga218/photos/page8.htm

Peace!

Menlo Bob Says:
July 9th, 2008 at 12:46 am

Wow, just last month I happened upon the Reformation Monument (pictured) in a park in Geneva Switzerland. I had no idea of its significance to the history of that country.
Comments
Thanks for your willingness to make a comment. Note: I do not moderate comments before they are posted, though they are automatically screened for profanities, spam, etc., and sometimes the screening program holds comments for moderation even though they're not offensive. I encourage open dialogue and serious disagreement, and am always willing to learn from my mistakes. I will not delete comments unless they are extraordinarily rude or irrelevant to the topic at hand. You do need to login in order to make a comment, because this cuts down on spam. You are free to use a nickname if you wish. Finally, I will eventually read all comments, but I don't have the time to respond to them on a consistent basis because I've got a few other demands on my time, like my "day job," my family, sleep, etc.
You must be logged in to post a comment.