« Walking in Darkness and Light (continued) | Home | Intimate Fellowship Encompasses Four Common Ideas of the Christian Life (Section 2) »
By Mark D. Roberts | Tuesday, August 18, 2009
Part 10 of series: What is the Christian Life?
Permalink for this post / Permalink for this series
So far in this series, I have been exploring the idea that the Christian life is, essentially, intimate fellowship with God and God's people. I have based my discussion primarily on the first letter of John in the New Testament, where he uses the Greek word koinonia to describe the Christian life. This word, often translated as "fellowship," points to a deep, committed relationship. Hence my translation "intimate fellowship."
Today and tomorrow I want to show how the notion of intimate fellowship encompasses four common ideas of the Christian life.
If you were to poll a bunch of Christians, asking them "What is the Christian life?" you'd get a variety of answers. Among these you would commonly hear something like:
1. The Christian life is being in heaven after death.
2. The Christian life is feeling joy and peace in the Lord.
3. The Christian life is believing the right things about God and Jesus.
4. The Christian life is doing what God commands in his Word.
Each of these ideas is true to an extent. But each idea fails to encompass the diversity and depth of the Christian life. Intimate fellowship, however, is an elastic enough concept to embrace these four common ideas, allowing their partial truths to find completeness in a larger whole. Let me explain.
1. The Christian Life as Heaven?
The Christian life does include being in heaven after death. Those who think of the Christian life in this way correctly identify a core hope of our faith, but put too much emphasis upon post-mortem existence, overlooking the present reality of Christian living. When we think of the Christian life as intimate fellowship with God and God's people, however, we understand that this fellowship begins the moment we believe in Jesus. It starts now and extends forever. Our koinonia continues beyond death, though we don't have to wait until we die to experience it.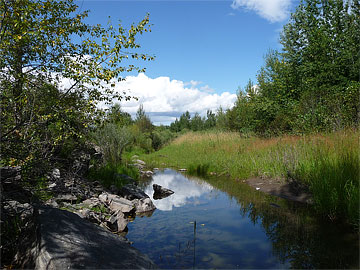 Putting emphasis upon intimate fellowship also clarifies the biblical sense of heaven. We often speak of heaven as a place, but most importantly it is the "place" where God dwells. To be "in heaven" is to be "with God." The New Testament speaks of our future, not primarily in terms of some mysterious spiritual geography, but in terms of relationship. Our everlasting future will be "with the Lord" or "with Christ" (1 Thess 4:17; Phil 1:23). For this reason, Scripture can even speak of heaven as a present reality, since we already live with Christ (Eph 2:6). Yet we yearn for a more complete experience of heaven, not because it's such a great place to live, but because it is the dwelling place of such a great God. In time, heaven will come to earth as God will dwell here among us (see Revelation 21, for example. Photo: Not heaven, but close. A tributary of the Gallatin River in Montana.)
2. The Christian Life as Joy and Peace in the Lord?
Surely the Christian life includes feeling joy and peace in the Lord. Although, taken alone, this notion puts too much weight upon certain positive emotions, such feelings often proceed from fellowship with Christ. Jesus makes this clear when he says that abiding in him – another way of talking about koinonia – will lead to overflowing joy (John 15:11). Moreover, when in times of worry we share in fellowship with God through prayer, then we "will experience God's peace, which is far more wonderful than the human mind can understand. His peace will guard [our] hearts and minds as [we] live in Christ Jesus" (Phil 4:7). Joy and peace will be the sweet fruit of growing intimacy with God.
At the same time, we must never reduce the Christian life to positive feelings. For one thing, no Christians are immune from unhappy feelings such as grief or fear. For another, positive feelings are a common by-product of relationship with God, but not the relationship itself. The Christian life is rather like a marriage, in that marriage often includes warm feelings of love, but is not to be identified with those feelings.
These days, you'll often hear people talk about worship in terms of their personal feelings. If they felt something tangible, such as joy or peace, in a worship service, then they really worshiped. If the feelings were absent, then so was real worship. But this confuses worship with feelings that often come as we worship. In fact, worship is not feeling something, but rather offering praise, thanks, adoration, confession, and ultimately ourselves to God. Genuine worship often includes genuine emotions, but emotions are not worship. Worship is an action, something we choose to do in order to honor the Lord.
Topics: Christian Life |
Comments
Thanks for your willingness to make a comment. Note: I do not moderate comments before they are posted, though they are automatically screened for profanities, spam, etc., and sometimes the screening program holds comments for moderation even though they're not offensive. I encourage open dialogue and serious disagreement, and am always willing to learn from my mistakes. I will not delete comments unless they are extraordinarily rude or irrelevant to the topic at hand. You do need to login in order to make a comment, because this cuts down on spam. You are free to use a nickname if you wish. Finally, I will eventually read all comments, but I don't have the time to respond to them on a consistent basis because I've got a few other demands on my time, like my "day job," my family, sleep, etc.
You must be logged in to post a comment.