« Harry Potter and the Half-Blood Prince | Home | Sunday Inspiration from The High Calling »
By Mark D. Roberts | Friday, July 17, 2009
Part 4 of series: What is the Christian Life?
Permalink for this post / Permalink for this series
In the opening verses of 1 John, we discover some essential characteristics of the life revealed by God. First, it was "from the beginning" (1:1). Second, it is something John has experienced personally: heard, seen, and touched (1:1). Third, prior to its being revealed, it was "with the Father" (1:2).
For John's original readers, these clues pointed to an obvious candidate for the revealed life: Jesus, the Son of God. The language of John's letter echoes the introduction to the Gospel of John, the content of which would have been familiar to John's community:
In the beginning the Word already existed. He was with God, and he was God. He was in the beginning with God. . . . Life itself was in him, and this life gives light to everyone. . . . So the Word became human and lived here on earth among us. He was full on unfailing love and faithfulness. And we have seen his glory, . . . . God's unfailing love and faithfulness came through Jesus Christ (John 1:1-2, 4, 14, 17).
The Word of God, who became incarnate in Jesus of Nazareth, is the one who existed "in the beginning." As his disciple, John heard, saw, looked at, and touched Jesus. As the Word of God, Jesus was "with the Father" prior to coming in the flesh so that John and others could see his glory. So the introduction to 1 John makes it clear that Jesus is the life revealed by God.
John's identification of Jesus and life reiterates that which Jesus said about himself. The Gospel of John records these words of Jesus,
I am the resurrection and the life. Those who believe in me, even though they die like everyone else, will live again (John 11:25).

I am the way, the truth, and the life. No one can come to the Father except through me (John 14:6).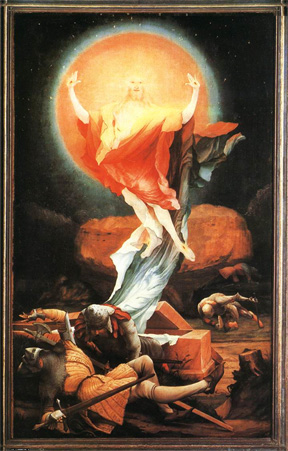 It would seem that we have found our answer to the question: What is the Christian life? The Christian life is Jesus Christ, the Word of God made flesh. (Photo: A painting of the resurrection of Jesus by Matthias Grünewald, as a part of his famous Isenheim Altarpiece, c. 1515)
In a sense, nothing could be more important that this truth. But the use of language here can also leave us in a quandary. If the Christian life is Jesus, how do we live Jesus? If I want to live as a Christian today, what do I actually do?
The equation of Jesus with life is a figure of speech, a creative use of language that suggests an inseparable connection between Jesus and the divine life. When John sums up the point of his Gospel, he explains:
Jesus' disciples saw him do many other miraculous signs besides the ones recorded in this book. But these are written so that you may believe that Jesus is the Messiah, the Son of God, and that by believing in him you will have life. (John 20:30-31)
Notice, here life is not equated with Jesus. Rather, it is a result of believing in him. John makes that same point earlier in the Gospel: "For God so loved the world that he gave his only Son, so that everyone who believes in him will not perish but have eternal life" (John 3:16). Once again, Jesus is the source of life. This life is often characterized as "eternal life," a phrase that describes the way we will live one day when we are fully in God's presence and all creation is the way God intends it to be. Yet we can begin to experience eternal life even now as we trust in the Son of God.
Jesus invites us to do more than trust him for salvation, however. In John 15, he invites his disciples, and by implication all who believe in him, to "remain" in him (John 15:4). The verb translated as "to remain" means "to abide" or "to make one's home." Jesus urges us to make our home – to center our experience, to orient our hearts, to find rest and security – in him. The results of such abiding are appealing: abundant fruitfulness, answered prayer, and plentiful joy (John 15:4-5, 7, 11). Since Jesus is the source of life, then staying closely connected to him leads to the best kind of life there is, a life of meaningful productivity and maximal delight. If you ask me, that sounds pretty good.
So, at first, the question "What is the life revealed by God?" isn't quite right. The better first question is, "Who is the life revealed by God?" Answer: Jesus, the Word of God incarnate. Once we've identified him as the Life, we are then able to answer the question "What is the life revealed by God?" It is life lived in relationship with God through Christ.
I grew up in a Christian community that emphasized "having a personal relationship with Jesus Christ." Thus I was disturbed when, as a teenager, my study of Scripture nowhere uncovered the phrase "personal relationship with Christ." I remember once telling one of my pastors, "The Bible never mentions having a personal relationship with Christ," much to his consternation.
I was literally right, in that the phrase "personal relationship" doesn't show up in English translations of the Bible. But the idea of having a relationship with God permeates the Scripture, from the first chapters of Genesis to the closing chapters of Revelation. In my next post, and in the ones to follow, I want to examine in detail one of the ways that the Bible speaks of what we might call "having a personal relationship" with God.
Topics: Christian Life |
One Response to "What is the Life Revealed by God?"
Comments
Thanks for your willingness to make a comment. Note: I do not moderate comments before they are posted, though they are automatically screened for profanities, spam, etc., and sometimes the screening program holds comments for moderation even though they're not offensive. I encourage open dialogue and serious disagreement, and am always willing to learn from my mistakes. I will not delete comments unless they are extraordinarily rude or irrelevant to the topic at hand. You do need to login in order to make a comment, because this cuts down on spam. You are free to use a nickname if you wish. Finally, I will eventually read all comments, but I don't have the time to respond to them on a consistent basis because I've got a few other demands on my time, like my "day job," my family, sleep, etc.
You must be logged in to post a comment.