« More Thin Places in Exodus | Home | A Good Reason Not to Use Your Cell Phone While Driving »
By Mark D. Roberts | Friday, May 15, 2009
Part 5 of series: Thin Places
Permalink for this post / Permalink for this series
After God established the Tabernacle as "sanctuary" for the Israelites so that he might "dwell in their midst" (Exod 25:8), he continued to "camp" among his people in a temporary, portable dwelling. Many generations passed, until David became the king of God's people and centered his kingdom in Jerusalem. One day it dawned on David that he lived in a luxurious palace while the Lord only had a tent. So David resolved to build a permanent "house" for the Lord, a temple in Jerusalem.
At first, God did not seem too keen on the idea:
I have not lived in a house since the day I brought up the people of Israel from Egypt to this day, but I have been moving about in a tent and a tabernacle. Wherever I have moved about among all the people of Israel, did I ever speak a word with any of the tribal leaders of Israel, whom I commanded to shepherd my people Israel, saying, "Why have you not built me a house of cedar?" (2 Sam 7:6-7)
Nevertheless, the Lord choose, not David, but his son Solomon to "build a house for my name" (2 Sam 7:13).
This "house," the Temple built in Jerusalem, was often referred to as God's house, the place where he lived. For example:
For the LORD has chosen Zion;
he has desired it for his habitation:
"This is my resting place forever;
here I will reside, for I have desired it." (Ps 132:13)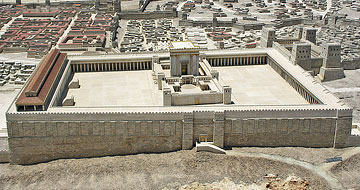 Yet the Jewish people understood that the Lord did not literally live in the Temple. At its dedication, when the glory of the Lord filled the temple, Solomon said, "The LORD has said that he would dwell in thick darkness. I have built you an exalted house, a place for you to dwell in forever" (1 Kings 8:12-13). But then, several verses later, Solomon adds, "But will God indeed dwell on the earth? Even heaven and the highest heaven cannot contain you, much less this house that I have built! . . . Hear the plea of your servant and of your people Israel when they pray toward this place; O hear in heaven your dwelling place; heed and forgive (1 Kings 8:27, 30). (Photo: A model of the Temple, now at the Israel Museum in Jerusalem.)
For Jews, the Temple represented God's presence with them. Going to the Temple was a solemn occasion for prayer and sacrifices, but also a joyous occasion for celebration and feasting. Of course, only priests were able to enter the actual sanctuary, with its Holy Place and Most Holy Place (literally translated from Hebrew as "holy of holies"). In fact, the high priest alone was able to enter the Most Holy Place, and only once a year, on the Day of Atonement.
The Temple represented the Lord's unique covenant relationship with Israel. He was their God and they were his people. By the time of Jesus, the Temple in Jerusalem, built by King Herod the Great, included several outer courts. The furthest out was the Court of the Gentiles. They were included, but kept out of the courts reserved only for Jews, including the inner sanctuary.
Yet, certain prophetic passages envision a time when the Gentiles would come to the Temple:
In days to come
the mountain of the LORD'S house
shall be established as the highest of the mountains,
and shall be raised up above the hills.
Peoples shall stream to it,
and many nations shall come and say:
"Come, let us go up to the mountain of the LORD,
to the house of the God of Jacob;
that he may teach us his ways
and that we may walk in his paths."
For out of Zion shall go forth instruction,
and the word  of the LORD from Jerusalem" (Micah 4:1-2).
Other prophetic texts shows that this is not just something the Gentiles desire, but something willed by the Lord himself:
And the foreigners who join themselves to the LORD,
to minister to him, to love the name of the LORD,
and to be his servants,
all who keep the sabbath, and do not profane it,
and hold fast my covenant—
these I will bring to my holy mountain,
and make them joyful in my house of prayer;
their burnt offerings and their sacrifices
will be accepted on my altar;
for my house shall be called a house of prayer
for all peoples.
(Isa 56:6-7)
Thus Jewish eschatology envisioned a day when all peoples, not just the Jews, would come to the Temple for prayer, sacrifices, instruction, and celebration.
Reflections on the Temple as a Thin Place
In Exodus, the possible thin places always seemed to be lacking something. Mt. Sinai was a very thin place, but only in unusual revelatory moments. The Pillars of Cloud and Fire and the Tabernacle were astounding space-time signs of God's presence, but they weren't places in the ordinary sense since they were intentionally portable.
The Temple in Jerusalem is a closer analogy to a thin place. It was one place and it didn't move. This place was said to be God's own house, though it was understood that God didn't actually live there. The Temple helped people get right with God (through sacrifices) and be directed by God (through teaching) and communicate with God (through prayer) and enjoy God (through celebrations).
The Temple was not, however, a place of worship like a synagogue or church sanctuary. Nor was it a quiet place for retreat, at least not in the courts where ordinary folk were welcome. The Temple, by its very design, kept people away from its holiest places, the places where God was said to dwell and where priests alone could enter. Yet common people surely experienced God's presence in the Temple courts, and in this sense they constituted a thin place. Thus people looked forward to coming to the Temple, as Psalm 84 reminds us:
How lovely is your dwelling place,
O LORD of hosts!
My soul longs, indeed it faints
for the courts of the LORD;
my heart and my flesh sing for joy
to the living God. . . .
For a day in your courts is better
than a thousand elsewhere.
I would rather be a doorkeeper in the house of my God
than live in the tents of wickedness. (Psalm 84:1-2, 10)
The existence of the Temple shows that God can and does, at times, identify closely with a certain place, making his presence known there in a powerful way. But this truth is reshaped in light of Christ. I'll explain further in my next post in this series.
Topics: Thin Places |
2 Responses to "The Temple as a Thin Place"
Poem - Intentions Matter More than Law and Culture Says:
May 20th, 2009 at 8:13 am

[…] The Temple as a Thin Place (markdroberts.com) […]

Tim Courtois Says:
January 11th, 2010 at 3:41 pm

How about "Jacob's ladder" - Genesis 28?
This is a fascinating topic. Scripture does seem to support the idea that geography is not irrelevant when it comes to connecting with God. "Surely the LORD is in this place and I was not aware of it. How awesome is this place! This is none other than the house of God; this is the gate of heaven." Wow.
Comments
Thanks for your willingness to make a comment. Note: I do not moderate comments before they are posted, though they are automatically screened for profanities, spam, etc., and sometimes the screening program holds comments for moderation even though they're not offensive. I encourage open dialogue and serious disagreement, and am always willing to learn from my mistakes. I will not delete comments unless they are extraordinarily rude or irrelevant to the topic at hand. You do need to login in order to make a comment, because this cuts down on spam. You are free to use a nickname if you wish. Finally, I will eventually read all comments, but I don't have the time to respond to them on a consistent basis because I've got a few other demands on my time, like my "day job," my family, sleep, etc.
You must be logged in to post a comment.