« Sunday Inspiration from The High Calling | Home | Unfashionable by Tullian Tchividjian, Part 2 »
By Mark D. Roberts | Monday, April 20, 2009
Today I'm participating in the "blog tour" for Unfashionable: Making a Difference in the World by Being Different, by Tullian Tchividjian. First, I'd like to introduce the author.
I had not heard of Tullian Tchividjian until March 19, 2009.  On that day I noticed a USA Today story with an intriguing headline: "Billy Graham's Grandson to Lead Famed Megachurch." The article introduced the Rev. Tullian Tchividjian, whose mother, Gigi, is a daughter of Billy and Ruth Graham. Tchividijian, the story explained, was recently elected as the Senior Pastor of Coral Ridge Presbyterian Church in Florida. This church had been led for five decades by Dr. D. James Kennedy, who was a notable televangelist who had made quite an impact as a member of the Religious Right. As I read the USA Today story, I thought to myself, "Man, I need to pray for Tullian. He has a double legacy: grandson of Billy Graham and successor to James Kennedy. Yikes!" And so I did offer a prayer for Tullian, even as I resolved to pray for him regularly.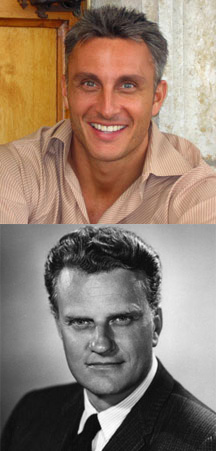 Little did I realize that one day later I would meet Tullian Tchividjian at the Christian Book Expo in Dallas, and even serve on a panel with him. You might think I would have known in advance who would be my discussion partners for the "What is the Gospel?" panel.  But, for some reason, I didn't gather that information. Anyway, I had the privilege of meeting Tullian on Friday morning, March 20. In this meeting I learned that he pronounces his name TOO-lee-un cha-VIJ-in, though his full name is William Graham Tullian Tchividjian. He impressed me as friendly and humble. (I didn't see any sign of a "Billy Graham's Grandson" tattoo.) His contribution to the panel was solid and helpful. Tullian is a bright, articulate, theologically-nuanced, enthusiastic communicator. I doubt I would have associated him with Billy Graham if I hadn't known about their relationship in advance. But, with such knowledge in mind, I could see evidence of Tullian's genetic connection to the most famous preacher of the last century, and the one who led me to Christ in 1963. (Photos: Tullian Tchividjian and Billy Graham.)
A few days after the CBE panel, I received a request from the folks who were organizing a blog tour for Tullian's newest book, asking me to participate. Having met him and heard him speak, I felt confident that his book would be well worth reading and reviewing, so I signed on for the tour.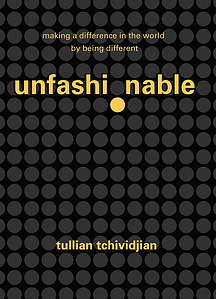 With that background, let me turn to the business at hand. Unfashionable, published by Multnomah, is 171 pages long, plus another 12 pages of a study guide for individual or group use. The addition of this guide makes Unfashionable very useful, especially for small groups or adult classes.
Perhaps one of the best ways for me to introduce you to this book is by quoting from the preface. Here's Tullian's list of the top-ten signs that you may be too fashionable:
10. You can look around at church and notice that everybody is basically the same age as you are and they look and dress pretty much like you do.

9. You can't stand singing a worship song that was "in" five years ago—much less singing a hymn from another century.

8. It's been a long time since you disagreed with anything said by Oprah. [MDR: Ah, nuts!]

7. You've attended a "leadership" conference where you learned more about organization and props (structural renovation) than proclamation and prayer (spiritual reformation).

6. Your goal in spending time with non-Christians is to demonstrate that you're really no different than they are, and to prove this you curse like a sailor, drink like a fish, and smoke like a chimney.

5. You've concluded that everything new is better than anything old OR that everything old is better than anything new.

4. You think that the way Jesus lived is more important than what Jesus said—that his deeds are more important than his doctrine.

3. You believe that the best way to change our culture is to elect a certain kind of politician.

2. The church you've chosen is defined more by its reaction to "boring, traditional" churches than by its response to a needy world.

1. The one verse you most wish wasn't in the Bible is John 14:6, where Jesus says, "I am the way, the truth, and the life. No one comes to the Father except through me." That's way too close-minded!
So, how did you rank?
It is telling that the form of this top-ten list is something made "fashionable" by David Letterman. Tullian is not arguing that Christians must become separate from the world and its modes of communication. In fact, he believes that "contextualization" is a necessary component of Christian mission. We need to communicate in culturally-relevant modes if we're going to be used by God to transform lives and, indeed, cultures. So Unfashionable does not make an idol of being out-of-step with everything in our culture. Rather, it challenges us to consider carefully how we adapt to culture and when we break with it.
Since this post is getting rather long, I'll stop my review here, and continue tomorrow where I've left off. But, in the meanwhile, let me encourage you to buy Unfashionable. It's a fine read and well worth your time and money.
Note: As always when I do a review, if you click on the link you'll be able to purchase the book from Amazon. Since I get a few cents from Amazon for every book sold, I am donating everything I make from this review to charity. This should obviate concern that my positive review is financially self-serving.
Topics: Book Reviews |
2 Responses to "Unfashionable by Tullian Tchividjian"
reJoyce Says:
April 20th, 2009 at 6:12 am

Looks like an interesting book, thanks for sharing.

Just FYI, your last Amazon link doesn't work. (First two do.)

Mark Roberts Says:
April 20th, 2009 at 8:02 am

reJoyce: Thanks for the comment. Correction made!
Comments
Thanks for your willingness to make a comment. Note: I do not moderate comments before they are posted, though they are automatically screened for profanities, spam, etc., and sometimes the screening program holds comments for moderation even though they're not offensive. I encourage open dialogue and serious disagreement, and am always willing to learn from my mistakes. I will not delete comments unless they are extraordinarily rude or irrelevant to the topic at hand. You do need to login in order to make a comment, because this cuts down on spam. You are free to use a nickname if you wish. Finally, I will eventually read all comments, but I don't have the time to respond to them on a consistent basis because I've got a few other demands on my time, like my "day job," my family, sleep, etc.
You must be logged in to post a comment.