« More Ire to Come? | Home | What Does It Mean to Pray in the Name of Jesus? Section 2 »
By Mark D. Roberts | Wednesday, January 14, 2009
Part 2 of series: Rick Warren, the Obama Inauguration, and Praying in Jesus' Name
Permalink for this post / Permalink for this series
Note: This is a revised and expanded version of a previous post.
Yesterday I raised the issue of whether or not Rick Warren should pray "in the name of Jesus" when he gives the invocation at the inauguration of Barack Obama. I noted that another Christian leader who will be praying at an inaugural event, Bishop Gene Robinson, has made it clear that he will not do this sort of thing because he does not want to be "especially Christian" in his prayer. (For stinging critique of Robinson's approach to this opportunity for prayer, see Jim Berkley's blog post: "Speaking Nonsense to No One in Particular.")
Before I can answer the question of whether I think Rick Warren should say "in the name of Jesus" at the end of his inaugural prayer, we need first to explore what it means to pray in the name of Jesus.
I should note that this is something that matters a great deal to theologically conservative Christians who take the Bible seriously. The idea that we should pray in the name of Jesus comes from Scripture, as we'll see. Most of those who insist that Warren must say "in the name of Jesus" or "in Jesus' name" at the end of his prayer base their conviction on the Bible. Though many more theologically liberal Christians often say something like "in the name of Jesus" at the end of their prayers, they tend to assume more freedom in applying the Bible to their actions, and thus would allow an inaugural invocator to deviate from what seems to be the biblical norm. Therefore, my exploration of the biblical meaning of praying in Jesus' name will be especially relevant for Christians who seek to follow biblical teaching in all they do. Rick Warren would certainly be such a Christian. (Oh, and for the record, so am I. Not saying I succeed, however, just that I try.)
So what does the Bible teach us about praying in the name of Jesus? If we turn to the Gospel of John, we find this statement on the lips of Jesus himself:
"I will do whatever you ask in my name, so that the Father may be glorified in the Son. If in my name you ask me for anything, I will do it."
Other passages in John's Gospel make a similar point (15:16; 16:23-24, 26).
So doesn't this rather conclude the matter? Jesus himself teaches us to pray in his name. This seems to leave no option for any praying Christian, including Rick Warren at Obama's inauguration.
But things aren't quite so clear as they might at first seem. If Jesus wanted his followers to say "in Jesus' name" at the end of their prayers, we must wonder why he didn't think to include this at the end of what we call The Lord's Prayer. This exemplary prayer is found in two different forms (Matthew 6:9-13 and Luke 11:2-4) in the New Testament, but neither ends with anything like "in the name of Jesus" or "in my name." In Luke 11, Jesus follows his model prayer with further instruction about prayer, urging us to be persistent (vv. 5-8) and confident (vv. 9-13) when we pray. But nowhere does he say we should speak his name in order to get our prayers heard.
In fact, when Jesus speaks of praying in his name, he is not referring to adding a catch phrase at the end of a prayer, though there is not necessarily anything wrong with this practice. I do in fact end most of my prayers with some version of "in Jesus' name." But I don't do this because that's what Jesus meant when he talked about praying "in my name."
If praying in Jesus's name is not saying "in Jesus's name" at the end of the prayer, what is it? We get help in answering this question from other passages in which Jesus uses the phrase "in my name." For example:
"Whoever welcomes one such child in my name welcomes me." (Matt 18:5)

"Again, truly I tell you, if two of you agree on earth about anything you ask, it will be done for you by my Father in heaven. For where two or three are gathered in my name, I am there among them." (Matt 18:19-20)
Neither of these passages has to do with saying the words "in Jesus's name." Rather, they're about doing something under his authority, or as his representative. So, in Matthew 18:5, "in my name" means something like "Whoever welcomes one such child under my authority and representing me, welcomes me." Matthew 18:19-20 is especially telling because verse 19 speaks of prayer, and verse 20 speaks of gathering in Jesus's name, but not using his name as some sort of ending to a prayer.
When Christians welcome children, or gather together, or pray, we do these things in the name of Jesus, whether or not we say "in Jesus' name." To pray in Jesus' name is come before God's throne of grace, not in our own merit or authority, but in the merit and authority of Jesus. We have no right to approach God's throne of grace in our sinfulness, but in the righteousness of Jesus, we can be bold when we come before God in prayer (Heb 4:14-16).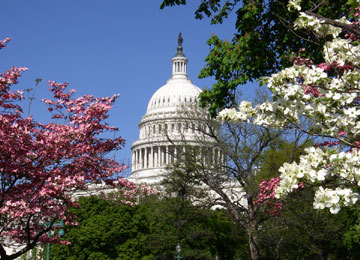 I'm reminded of a time when I visited the U.S. Capitol in Washington as a guest of Rep. John Campbell, who was my congressman when I lived in Irvine. With him as my guide, I walked freely around the Capitol, entering many areas that were reserved only for members of Congress and their guests. I was welcome in that place, not because of who I was or because of anything I had done, but because I was there "in the name" of Rep. Campbell. So it is when we come before God in the name of Jesus. (Photo: The U.S Capitol in the spring.)
The fact that Jesus did not require his disciples to use the phrase "in the name of Jesus" at the end of their prayers is demonstrated by other passages of Scripture. I'll visit these in my next post.
Topics: Praying in Jesus's Name |
7 Responses to "What Does It Mean to Pray in the Name of Jesus?"
Comments
Thanks for your willingness to make a comment. Note: I do not moderate comments before they are posted, though they are automatically screened for profanities, spam, etc., and sometimes the screening program holds comments for moderation even though they're not offensive. I encourage open dialogue and serious disagreement, and am always willing to learn from my mistakes. I will not delete comments unless they are extraordinarily rude or irrelevant to the topic at hand. You do need to login in order to make a comment, because this cuts down on spam. You are free to use a nickname if you wish. Finally, I will eventually read all comments, but I don't have the time to respond to them on a consistent basis because I've got a few other demands on my time, like my "day job," my family, sleep, etc.
You must be logged in to post a comment.