« Sunday Inspiration from The High Calling | Home | The PC(USA) and Church Property, Part 14 »
By Mark D. Roberts | Monday, October 6, 2008
Part 13 of series: The PC(USA) and Church Property
Permalink for this post / Permalink for this series
On Friday I summarized a breaking story from the Tulsa World. After two years of litigation, the Presbytery of Eastern Oklahoma has offered to sell the property that was used by Kirk of the Hills for forty years to Kirk of the Hills for $1.75 million. Two years ago, Kirk of the Hills voted almost unanimously to leave the PC(USA) and join the EPC. They tried to keep their property, but the presbytery sought to evict them. This led to extensive litigation, and a judge's ruling in August that the presbytery owns the property. Kirk of the Hills promised to appeal, so the presbytery countered by offering to sell them the property if they would forever end their appeal.
In Friday's post I began to examine in detail the explanation of the presbytery's action given by its leader, Rev. Greg Coulter. I tried to show that his way of opposing the constitutional duties of the presbytery with the presbytery's pastoral concern was a significant misreading of the PC(USA)'s Constitution. In fact, pastoral concern for a congregation is a constitutional duty of a presbytery. The presbytery exists for far more than making sure the PC(USA) hands onto its property (or, more accurately, Jesus' property entrusted to the presbytery).
Rev. Coulter had a bit more to say about his presbytery's offer:
"We believe this is a grace-filled offer, and we hope for a grace-filled response.

"We believe this would allow them to worship, to continue their community programs, and to move on in their mission. We believe this helps them move forward."
A grace-filled offer? When I last checked, grace meant giving something underserved, something for nothing. When we're saved by grace, we don't have to earn it. We don't have to pay $1.75 million for our salvation, or even $1, or even one good work, because God paid it all through Christ. It cheapens the language of grace to use it in this context. Besides, it's hardly gracious to sell to a congregation the property it developed with its own money. No, this isn't grace-filled. It's much more about law than grace.
In what Rev. Coulter said, he actually admitted that letting Kirk of the Hills keep its property would "allow them to worship, to continue their community programs, and to move on in their mission." So what he is saying, in effect, is that if Kirk of the Hills doesn't cough up the money, then the presbytery is ready to do that which will impede the worship, community programs, and mission of Kirk of the Hills. Rev. Coulter is openly admitting that the presbytery is ready to do that which will squelch worship, ministry, and mission, unless they get their money. And who loses if the presbytery does this? Kirk of the Hills? Yes. It has to find and build a new campus, and that takes a lot of money and effort. The people in the community for whom the church exists? Yes. The programs that utilized the church buildings are gone. The kingdom of God? Yes, because the work of the kingdom is hampered. The triune God? Yes. Because God's worship and mission will be impaired.
If Rev. Coulter really believes what he said about helping to move Kirk of the Hills forward in worship, ministry, and mission, then I can't believe he'd be willing to evict them from their property under any reasonable circumstances. If keeping the property will help Kirk of the Hills in worship, ministry, and mission, then how could the presbytery think it's right to evict them? It wouldn't be gracious to let them keep the property. It would be good stewardship of Jesus' resources. It would be an obvious contribution to the kingdom of God.
According to the Tulsa World, Rev. Coulter said he hopes the church would accept the offer. "That's the only way healing starts," he said. Hmmm. So healing starts when the church pays the presbytery $1.75 million for the property it developed with its own money. Hmmm. That doesn't sound too much like healing to me, at least not the healing that has anything to do with grace. I can't seem to remember too many times in the Gospels when Jesus healed people only when they paid him first. Hmmm.
Rev. Coulter seems to like the idea of a grace-filled action by the presbytery and a grace-filled response by the church. I'm with him on this 100%. But I don't think what the presbytery is proposing has much to do with grace. The presbytery can do much better than that, and so can the church.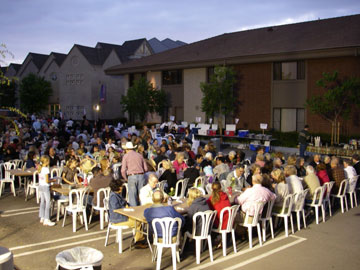 What would a grace-filled presbytery action look like? How about this: The presbytery extends grace to the Kirk of the Hills by allowing it to retain its property at no cost. Moreover, the presbytery throws a giant party for Kirk of the Hills, thanking God for their forty years of shared ministry, and blessing Kirk of the Hills as it enters a new season of its service to Christ through the EPC. (Photo: My farewell party at Irvine Presbyterian Church a year ago. When a church leaves one denomination for another, it's rather like when a pastor leaves one church for another ministry. Sometimes the church being left gets hurt and mad, making the pastor's transition painful. Sometimes the church throws a party to celebrate God's grace and sovereignty. Parties are so much better!)
What would a grace-filled response from the church look like? Try this: The church accepts the gracious offer of the presbytery and the party to celebrate their shared ministry. At that party, church leaders present the presbytery with a check (or I.O.U.) for $1.75 million, in thanks for forty years of partnership, and to help the presbytery plant a new church.
How's that for grace-filled? Or is it too idealistic, too impractical? It reminds me a little of that impractical parable Jesus told of the Prodigal Son and his Prodigal Father. That Jesus, he always had crazy ideas, like turning the other cheek and walking the second mile and giving up your life for others. I wonder what he'd do with his property in Tulsa, Oklahoma.
Topics: PCUSA: Church Property |
14 Responses to "The PC(USA) and Church Property, Part 13"
Comments
Thanks for your willingness to make a comment. Note: I do not moderate comments before they are posted, though they are automatically screened for profanities, spam, etc., and sometimes the screening program holds comments for moderation even though they're not offensive. I encourage open dialogue and serious disagreement, and am always willing to learn from my mistakes. I will not delete comments unless they are extraordinarily rude or irrelevant to the topic at hand. You do need to login in order to make a comment, because this cuts down on spam. You are free to use a nickname if you wish. Finally, I will eventually read all comments, but I don't have the time to respond to them on a consistent basis because I've got a few other demands on my time, like my "day job," my family, sleep, etc.
You must be logged in to post a comment.