« Recommendation #9: Choose a church where you will grow as a disciple of Jesus Christ. | Home | Recommendation #11: Choose a church that values the Bible as God's uniquely inspired and authoritative Word. »
By Mark D. Roberts | Tuesday, June 17, 2008
Part 13 of series: Choosing a Church: Some Recommendations
Permalink for this post / Permalink for this series
Today I'll suggest Recommendation #10: Choose a church that sees itself and seeks to live as an outpost of the mission of God in the world.
I could have just said "Choose a missional church," but many of my readers wouldn't quite know what this means. Some might thing I'm referring to a church that has an extensive "missions" program: sponsoring overseas missionaries, being involved in local mission, etc. But this wouldn't get the precise nuance of "missional."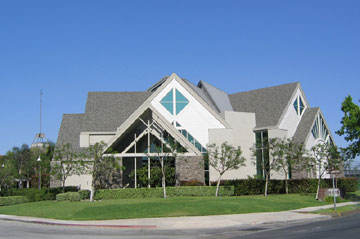 A missional church sees itself and seeks to live as an outpost of the mission of God in the world. Traditionally, Christian churches though of new church developments or missionary churches as outposts of God's mission. They weren't the outposts, but the home bases. Their job was to care for the Christians in their congregation and support the missionary efforts of others. (Photo: The sanctuary of Irvine Presbyterian Church. During my years as pastor there, we worked hard to see ourselves and to live as a missional church. My hope and prayer is that the next pastor will be able to move this fine church even further along the missional path.)
There is much good in this traditional model of church. It has helped spread the good news of Jesus throughout the world. And it has contributed to the planting of thousands of churches in the U.S. But the traditional view that sees the home church as the sending church, rather than the sent church, misses an absolutely central dimension of God's plan for the church.
If you go back to the Great Commission, where Jesus sent his disciples into the world to make more disciples, it's clear that these disciples were sent. No question about it. Now their task was to make more disciples of Jesus who would do just as Jesus had commanded his first disciples. So the Great Commission would provide the marching orders, not just for the earliest disciples, but also for all who follow Jesus. Of course, in time, disciples of Jesus wouldn't need to literally go somewhere to make disciples. They'd already be in the place where God had "sent" them, so to speak. They'd have found their place in the mission (from the Latin word missio, meaning "sending") of God.
Every single church throughout the world has been, in a sense, sent by God to do the work of the kingdom in that place. In this sense, every church should be a missional church, a church committed to reaching out to make more disciples of Jesus and to living out the reality of the kingdom in its location. Unfortunately, many churches do not see themselves in these terms. They're stuck in the traditional model of church, rather than in the biblical model.
You can tell if a church is missional by paying attention to its vision and, indeed, statement of mission. Does this church exist not just for itself, but for the sake of others? Does it see itself as called by God to share the good news of Christ in its community and to live out this good news? A church doesn't have to use the word "missional" to be missional. But it does have to demonstrate a pervasive commitment to the mission of God in the world.
Some churches might have a missional mission statement, but a traditional modus operandi. A church might say, "We exist to reach others" but, in its actions, show that it actually exists primarily for itself. So when you're choosing a church, you'll want to see if that church is actually reaching out to the community in tangible ways. Of course the precise nature of this outreach will vary according to the nature of the community.
It's quite likely that a missional church will also be involved in the wider mission of God throughout the world. That's great. It will support missionaries, sponsor mission trips, etc.
As a newcomer to a church, chances are that you'll be able to evaluate the missional character of the church fairly easily, perhaps even more easily than many of the members. You'll sense whether the church exists for outsiders, because you are an outsider. You'll know whether you have been welcomed by many. You'll see whether core members are looking for new folks to greet, or whether they're caught up with their own friends.
Topics: Choosing a Church |
One Response to "Recommendation #10: Choose a church that sees itself and seeks to live as an outpost of the mission of God in the world."
Bill Goff Says:
June 17th, 2008 at 2:11 pm

Perhaps it is just a matter of taste, but I am not fond of the term "missional". It sounds too bureaucratic. The phrase "missional mission statement" seems redundant.
On a positive note, I am impressed that Saddleback Church in Southern California (where I am a member) has been able to send thousands (I think over 7,000)of its members on short term mission trips all around the world as well as to local outreach opportunities. I am not in a position to judge the impact these mission trips have made on the world, but I know they have made a major positive impact on those who have been sent. I hope many other churches and denominations will follow the example of Saddleback Church in activating its members to be involved in mission outreach. It is a church with a very wide mission. And as far as I know the church has never used the term "missional"
Comments
Thanks for your willingness to make a comment. Note: I do not moderate comments before they are posted, though they are automatically screened for profanities, spam, etc., and sometimes the screening program holds comments for moderation even though they're not offensive. I encourage open dialogue and serious disagreement, and am always willing to learn from my mistakes. I will not delete comments unless they are extraordinarily rude or irrelevant to the topic at hand. You do need to login in order to make a comment, because this cuts down on spam. You are free to use a nickname if you wish. Finally, I will eventually read all comments, but I don't have the time to respond to them on a consistent basis because I've got a few other demands on my time, like my "day job," my family, sleep, etc.
You must be logged in to post a comment.