« Ivy League Congress on Faith and Action: My Presentation | Home | You Don't See This Every Day . . . »
By Mark D. Roberts | Friday, April 18, 2008
Part 3 of series: Ivy League Congress: Discerning God's Call
Permalink for this post / Permalink for this series
More Seeds for Discerning God's Call to "Ministry"
In my last post I sowed the first two of eleven "seeds" for discerning God's call to ministry:
1. Laity: All Christians have a high calling as ministers of Christ.
2. Surprise: It's likely that God will surprise you if you seek his will openly.
Today I'll scatter a few more seeds.
3. Sovereignty
If we wish to discern God's call upon our lives, we need to be committed to his sovereignty. In the words of Jesus, we are to seek first the kingdom of God. Everything else follows from this fundamental commitment.
Of course this is much easier said than done. As I write these words, I can honestly say that I desire God's will and that I am submitted to his sovereignty over my life. But then there's that part of me that really still wants my will and wants to run my own life. Thus I find myself needing to submit to God again and again. Submission is, after all, the flip side of sovereignty.
4. Stewardship
No, I'm not planning to take an offering. Stewardship means much more than it often signifies in church. It has to do with using well the gifts, talents, opportunities, relationships, and resources God has given me.
Throughout most of my adult life, I have been relatively sure that I was being a faithful steward of my life. But there have been times when I have wrestled for long periods of time with the stewardship issue. A few years ago, a seminary expressed significant interest in having me become their president. This position offered lots of opportunities for me. But, in the end, I just didn't believe that the duties of a seminary president were well suited to my personality and gifting. In 2007, the stewardship challenge reared its pesky head once again as Laity Lodge sought to have me join their team. This time, after five months of seeking God's will, I became convinced that I could best use the gifts God had given me in the context of Laity Lodge's ministries.
5. Blessing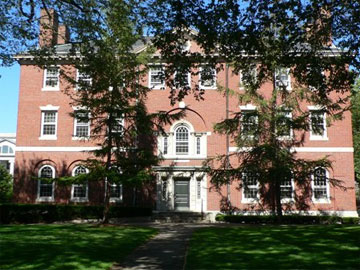 When we're wondering about God's call upon our lives, we ought to pay close attention to what he is already blessing. In John 5:19 Jesus said, "Very truly, I tell you, the Son can do nothing on his own, but only what he sees the Father doing; for whatever the Father does, the Son does likewise." Similarly, we ought to ask: What is God doing in my life? Where is God at work right now? (Photo: Phillips Brooks House at Harvard, where I did lots of teaching for the Christian fellowship there while I was a student at Harvard.
One of the main reasons I became an ordained minister was that, even before I began the arduous process of becoming ordained in the Presbyterian Church USA, God was using me in ministries of teaching and leadership. I taught my first weekly Bible study when I was in high school, and had been consistently teaching in church and/or parachurch organizations ever since. The fact that God was blessing my ministry of teaching was strong evidence that he was leading me into a more focused calling as a teacher.
When people come to me, wondering if they are being called into ordained ministry, some of my very first questions are: What are you doing in ministry right now? Are you doing things that pastors do? Is God blessing these activities? If a person can answer "yes" to these questions, this is a positive sign. If not, then I encourage people to start doing pastor-like ministries and see what God does with them.
I'm just about half way through my list of "seeds" for discerning God's call to ministry. More later . . . .
Topics: Ivy League Congress |
One Response to "More Seeds for Discerning God's Call to Ministry"
Pastor Darpen Kumar Says:
August 4th, 2010 at 1:08 am

PRAISE THE LORD,
Dearest in Christ,
Greetings in the wonderful Name of our Lord and Saviour Jesus Christ.

How are you today and your family.May your Joy in Christ be complete, thats my prayer for you.Hope you are fine and doing well. Over here we are fine by the grace of Jesus Christ.Thank you for your concern and love for me.I got your email address by Google search in christen churches.I am Pastor.Darpen Kumar came to the Lord 1995, I was drummer with a Hindu devotional singers troop.while in a programme I heard about Jesus and I left that troop and stopped playing for any such Hindu devotional programme.And when my community came to know about my faith in Jesus I was athrown out of my home and worked with differrent churches and organisations for last 15 years.I am married and have a daughter named Angel (3yrs )and my wife is a sikh convert.I am the only believer from my family and all my family members still hate me for my faith.I have gone through severe persecutions and many atime people like fundamental Hindu outfits threatened me with dire consequences.At present some local friends encourage me,they are unable to provide for my needs because they too are sufferres. Now we 10 brothers have come together and started praying for a new beginning , we all are working in 10 differrent areas of Punjab North India,we are just running with the support of some poor villegers.Holy Spirit has inspireds us to start a new church planting and training programme through the means of a new ministry.

I am counted to be worthy to suffer for the Lord,Last 15 years it was Lord's Mercy which helped me to survive.

Presently we are not supported by any organisation in India or abroad. and we are independant of all missions and denomionations.We are presently running some house churches among Hindu and Sikh believers we are immediately in need of a worship centre.

My Vision
*start Churches in new villages of Punjab.
*Support the workers spiritually and financially for their food accommodation,
&education of their children.
*Starting some Slum education for the poor
*Orphanage and medical aid to the poorest
*constructing buildings for the new churches for worship.
*establishing a Head office for 24 hrs prayer,Bible training , Counselling and Other help for the Missionaries of the region .

We have initiated a new local registration with our lawyer as to obtain legal recognition from the Government. But it got stuck half way because we lack funds.
I have great sorrow and always feel much sadness because I do want start a new church in the Non-christan People for worship of God,but I have no money.I have a burden for work of God that I could do something for own Lord Jesus Christ. I live by faith in the son of God.Jesus is the One who loved me.He gave himself to save me.
I need your help work of God.we can do together ministry if you will.I wrote many letters to many churches,but Anybody did not help me.they says that I will only prayer for you.we can't any help for you,but Bible says:-(PROVERBS:3:27,28)-(JAMES:2:15,17).I am telling you the truth.
I am doing now work of God house to house and church to church for this time.I can't speak English but understand little.pls you talk to with me any hindi(Indian)person.I will give you details own ministry. I am not greedy man.but your faithfully brother Can you completely trust me? I'll continue prayer for your ministry.
I have no bank account number,but I will give your's my brother bank account number.can you send me little donation?I'll feel highly obliged,if you get this work done.I am immensely waiting for your urgent response………

Expecting your early reply and prayers

Yours sincerely in Christ
Pastor Darpen Kumar

My Brother A/C
BANK BRANCH:-
(UNION BANK OF INDIA)
BANK ADDRESS:-SDP HIGHER SCHOOL(CHOURA BAZZAR)LUDHIANA,(PUNJAB)INDIA
NAME: ASHWANI KUMAR NANDA
SWIFT:UBININBBLDN
ACCOUNT.NO: 520602010009683
BRANCH SORT.CODE:026003
MY MOBILE NO 00919478228581
MY E-MAIL: pastordarpen333@yahoo.com
Comments
Thanks for your willingness to make a comment. Note: I do not moderate comments before they are posted, though they are automatically screened for profanities, spam, etc., and sometimes the screening program holds comments for moderation even though they're not offensive. I encourage open dialogue and serious disagreement, and am always willing to learn from my mistakes. I will not delete comments unless they are extraordinarily rude or irrelevant to the topic at hand. You do need to login in order to make a comment, because this cuts down on spam. You are free to use a nickname if you wish. Finally, I will eventually read all comments, but I don't have the time to respond to them on a consistent basis because I've got a few other demands on my time, like my "day job," my family, sleep, etc.
You must be logged in to post a comment.