« Sunday Inspiration from The High Calling.org | Home | Strange Book Bedfellows, Part 4 »
By Mark D. Roberts | Monday, March 3, 2008
Last Thursday I blogged on a email promotion from Amazon.com to folks who had bought my books. Amazon was urging my readers to buy a book by Don Williams on sexual threesomes. No joke! I wasn't scandalized by this, but was a bit bugged and a bit amused. It was a bit ironic. I wrote to Amazon.com to let them know about their mistake, and received an email response in which they admitted their error and promised to fix it. At a minimum, this would mean no more perverse promotions sent to my readers. At a maximum, if Amazon.com were a smart company, they'd also send out the apology I had asked be sent to my readers.
Amazon.com's response was sent to me on Thursday, 2/28/2008. Since that time they have continued to send out the same email promotion. I can only conclude that their initial response to me was just smoke and mirrors. So now I'm betting bugged, because the issue is no longer an imprecise algorithm that confuses authors named "Don Williams," but Amazon.com's failure to tell me the truth or to do as they promised.
So, on Saturday (3/1/2008) I sent another note of complain. This one includes some shouting (caps) to get their attention. I must say that as someone who has spent thousands of dollars at Amazon.com, and as an author who has six books for sale through this site, I'm disappointed in Amazon's response. I expected better from them. Sure, their huge and I'm not even a tiny drop in their bucket, but, in these days, customer service is everything.
Here is my latest note of complaint, in case you're interested:
From Mark D. Roberts to Amazon.com, 3/1/2008
——————————————————————–
Your email dated 2/28/2008 from Gobi N. HAS NOT RESOLVED MY QUESTION. Let me explain.
Last Wednesday (2/27/2008) I sent you the following message:
Mark D. Roberts here. Several of my books sell through Amazon. I'm getting many emails today from readers of my books. They're responding to an email sent from you. It reads:

Dear Amazon.com Customer,

We've noticed that customers who have purchased or rated books by Mark D. Roberts have also purchased The Guys Guide to Having a Threesome by Don Williams. For this reason, you might like to know that The Guys Guide to Having a Threesome will be released on March 12, 2008. You can pre-order yours by following the link below.

The Guys Guide to Having a Threesome
Don Williams
Price: $24.95
Release Date: March 12, 2008

Product Description
Is your fantasy having two girls at once? If so this is the book you need to read. In this book the author discusses many of the issues involved including: Who is having threesomes and why Talking to your partner The pros and cons of having one Positions and techniques (including Photographs). Where to Find a Third This is the best book on the market on the subject of threesomes
This is a major mistake. I write evangelical Christian books. So does a Christian pastor named Don Williams. His books sell on Amazon. But he is not the Don Williams who wrote the book on on "having a threesome." I expect your computer algorithm generated this promotion, but it needs to be corrected PDQ. Moreover, I would ask you to send a letter of apology to my readers. Your email suggests that many of them would be interested in a book they consider to be immoral and inappropriate.
The next day (Thursday, 2/28/2008) I received the following reply:
Thanks for writing to Amazon.com to bring this to our attention.

We build our web site information from many sources, and we really appreciate knowing about any errors which find their way into it.

I'll see that this error is corrected as soon as possible.

For future reference, at the bottom of the product detail page of every item on our web site, you should see a blue Feedback or Suggestion Box where you can report any inaccuracies in that item's listing on our site.

Thanks again for shopping at Amazon.com.

Please let us know if this e-mail resolved your question . . . .

Best regards,

Gopi N.
Amazon.com Customer Service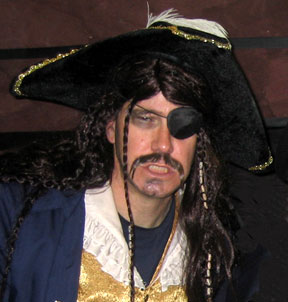 The error has not been corrected. I continue to receive emails from readers of my books informing me that they are getting the offensive email promotion. I just received an email from a man who sent me a copy of your email promotion dated March 1, 2008. So you are still sending the offending promtion to buyers of my books, three days after you promised to fix the error. [Photo: Maybe I'd get more respect from Amazon.com if they realized that I'm a pirate in my spare time.]
THE ERROR HAS NOT BEEN CORRECTED. YOU ARE IMPUGNING THE INTEGRITY OF MY READERS, NOT TO MENTION A FINE MAN WHO HAPPENS TO BE NAMED DON WILLIAMS, AND, IMPLICITLY, ME. THIS NEEDS TO STOP, AND AN APPROPRIATE APOLOGY NEEDS TO BE SENT.
By the way, I am chronicling this whole scenario on my website. Amazon.com is looking pretty bad right now. Just one more giant corporation that doesn't give a rip about its customers. My 4,000 daily readers won't make a big dent in your income, but your integrity — in making this mistake, then in promising to fix it, then in not fixing it — looks pretty bad right now.
But you still have chance to redeem yourself. PLEASE STOP SENDING THE OFFENSIVE PROMOTION. AND PLEASE SEND AN APOLOGY TO MY READERS WHO RECEIVED THE PROMOTION.
Sincerely,
Mark D. Roberts
——————————————————————–
Concluding Comments
As I've noted before, I'm not losing any sleep over this. But an ironic mistake is one thing. Misrepresentation by a company I trust in another thing. I hate being lied to. Oh well, it will be interesting to see if Amazon.com does anything else with this problem.
Topics: Strange Book Bedfellows |
One Response to "Okay, Now I'm Getting Bugged . . . [Strange Book Bedfellows, Part 3]"
Nathan Says:
March 3rd, 2008 at 4:08 pm

Nobody messes with Pirate Mark. Nobody.

Amazon's gonna be walkin' ye plank!
Comments
Thanks for your willingness to make a comment. Note: I do not moderate comments before they are posted, though they are automatically screened for profanities, spam, etc., and sometimes the screening program holds comments for moderation even though they're not offensive. I encourage open dialogue and serious disagreement, and am always willing to learn from my mistakes. I will not delete comments unless they are extraordinarily rude or irrelevant to the topic at hand. You do need to login in order to make a comment, because this cuts down on spam. You are free to use a nickname if you wish. Finally, I will eventually read all comments, but I don't have the time to respond to them on a consistent basis because I've got a few other demands on my time, like my "day job," my family, sleep, etc.
You must be logged in to post a comment.