« Eyewitness Testimony in Mark's Gospel | Home | Favorite Holiday Songs (Section 2) »
By Mark D. Roberts | Thursday, December 27, 2007
Part 3 in the series: More Christmas Carol Surprises
Permalink for this post / Permalink for this series
I can still remember the moment many years ago when my youth leader at church said, "You know, 'Jingle Bells' really isn't a Christmas carol. It's more of a winter song." I was stunned. This had never occurred to me before. I quickly went through the lyrics of "Jingle Bells" in my head, only to realize for the first time that this fun song really said nothing about Christmas at all. It mentioned neither the secular nor the spiritual aspects of the holiday. For the first time in life, I received a "Christmas carol surprise." A song I knew and loved turned out to be something different from what I had assumed it to be.
I've since learned that "Jingle Bells" has a few more surprises to offer. It was written in the mid-1800's by a church organist, James Pierpoint. It was first performed, not in a Christmas service, but in a Thanksgiving program at Pierpoint's church. There's actually quite a hot debate over where Pierpoint actualy wrote "Jingle Bells." People from the city in Georgia where the song was first performed claim he wrote it there. But folk from Medford, Massachusetts, where Pierpoint lived before moving south, claim he wrote his famous jingle in a town tavern.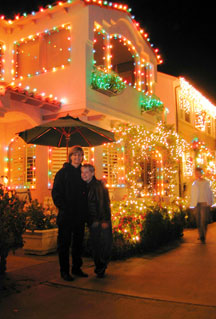 In my last post I mentioned my rough and ready distinction between religious Christmas carols and secular carols or holiday songs like "Jingle Bells." Of course many holiday songs mention Christmas, but almost never as a religious holiday. I'm not complaining about this, by the way, just mentioning it. I happen to think that many of the secular Christmas traditions are wonderful (putting up Christmas lights, eating festive food, getting together with friends and family, etc.). Songs that commemorate these traditions can also be delightful, even if they're not spiritually edifying. (Here I part company with my Reformed and Puritan theological ancestors, who disliked Christmas carols in general, and despised the secular songs as contradictory to the solemnity of the birth of Christ.) (Photo: My wife and son during one of my favorite family traditions, our an annual walk around Balboa Island (Newport Beach) to see the decorated homes. We missed the boat parade this year because we were in Texas. But we'll still get the lights.)
If you'll grant my distinction between religious carols and holiday songs, then let me ask you: What are your favority holiday songs? Which holiday songs do you love the most? (I addressed religious carols in my last post.)
Before I answer this question for myself, I want to make a prediction about your answer: You will choose several songs written in America between 1932 and 1952. In fact, it wouldn't surprise me if most or all of your choices fall into this category. Now I'm not psychic or anything like that. But I do know that the majority of our most popular holiday songs today were written in that time frame, including "White Christmas" (1942), "The Christmas Song" ("Chestnuts roasting", 1946), and "Rudolph the Red-Nosed Reindeer" (1949).
It strikes me as notable that so few of our favorite holiday songs were written in the last forty years. So far I've been able to identify only these: "We Need a Little Christmas" (Jerry Herman, 1966), "This Christmas" (Donny Hathaway and Nadine McKinnor, 1968), "Feliz Navidad" (José Feliciano, 1970), "Happy Christmas" (John Lennon, 1971)," "Wonderful Christmastime" (Paul McCartney, 1979). (Note: As of 2007, "Do They Know It's Christmas" has been growing in popularity. It was written in 1984 to raise money for Ethiopian famine relief. Check out a Youtube video here.) If you have any other suggestions, please let me know. Obviously it takes time for songs to become popular, not to mention old favorites. But I don't see many recent songs on this trajectory. Why not, I wonder?
One could argue that many of the songs from the 1930s-1950s era were promoted through movies, and that would certainly be true. Just take Bing Crosby's "White Christmas," for example, which was featured in the 1942-film Holiday Inn. But there are lots of movies today with Christmas themes. Do they feature new holiday songs on their way to becoming classics? I don't think so. In fact most of these movies tend to feature the older songs, though they may be re-recorded by younger singers. Take the recent Christmas hit Elf. Its songs are almost all from the 1930s-1950s. (Here's a strange bit of trivia. The soundtrack for Elf was composed by John Debney, who also composed the soundtrack for The Passion of the Christ. Now there's some diversity!)
What explains the tendency of today's films to use older music? I'm sure nostalgia has something to do with it. When we hear Nat King Cole's rendition of "The Christmas Song" we not only enjoy this song as a piece of music but also it generates fond memories of times gone by, at least for many of us. But I don't think nostalgia solves completely the riddle of no new music. I'm inclined to believe that it's also about the change in America since the early 60's. Vietnam, Watergate, the sexual revolution, and so forth had an impact on the soul of America. We lost our romanticism, for better or for worse. We became more realistic, more cynical, more unwilling simply to enjoy smelling "chestnuts roasting on an open fire." Most of the holiday music from decades past is very romantic. It's all about happiness, beauty, love, and Christmas magic. Winter isn't a time when homeless people struggle to find shelter or lonely people fall into deep depression. Rather, the older music celebrates "Jack Frost nipping at your nose" as you walk through a "winter wonderland," enjoying a "white Christmas" while crying out "Let it snow! Let it snow! Let it snow!"
Thanks to ASCAP (The Amercian Society of Composers and Publishers), we don't have to guess which Christmas songs (not carols) are the most popular. They keep records of things like this. In my next post I'll put up the most recent results of the ASCAP survey, and note some changes between 2004 and 2007. Meanwhile, you might find it fun to make a list of your own favorite Christians songs and see how many of the top 25 you can come up with on your own.
Topics: Christmas Carols |
7 Responses to "Favorite Holiday Songs (Section 1)"
Comments
Thanks for your willingness to make a comment. Note: I do not moderate comments before they are posted, though they are automatically screened for profanities, spam, etc., and sometimes the screening program holds comments for moderation even though they're not offensive. I encourage open dialogue and serious disagreement, and am always willing to learn from my mistakes. I will not delete comments unless they are extraordinarily rude or irrelevant to the topic at hand. You do need to login in order to make a comment, because this cuts down on spam. You are free to use a nickname if you wish. Finally, I will eventually read all comments, but I don't have the time to respond to them on a consistent basis because I've got a few other demands on my time, like my "day job," my family, sleep, etc.
You must be logged in to post a comment.