« A Philippian Attitude Adjustment | Home | Sunday Inspiration from Pray the Psalms »
By Mark D. Roberts | Saturday, September 29, 2007
Part 11 of series: Grace in the Rearview Mirror: A Pastoral Retrospective
Permalink for this post / Permalink for this series
I will be the pastor of Irvine Presbyterian Church for two more days. At the stroke of midnight on Sunday, September 30th, my term of 5,936 days comes to an end, and I become the Senior Director and Scholar-in-Residence for Laity Lodge. (In point of fact, at midnight on Sunday I should be sleeping in a Motel 6 in Arizona, on my way to Texas. I hope I don't turn into a pumpkin.)
As I look back upon my ministry, I do not have many regrets, and the ones I have aren't major. I do wish, for example, that I'd found a way to spend more time with people and less time in administrative minutiae. And I wish that I'd been able to be more discerning about when key employees just weren't working out. And I wish that I'd been able to spend more time with my elders, working more closely with them on God's vision for the church.
But if I had it to do over again, there are two major things I would do differently. First, I would be more grateful. Now I spent hours upon hours in prayers of thanksgiving over the years, so gratitude wasn't absent from my life and ministry. But, as I'm leaving, I realize how much I took for granted. Irvine Presbyterian Church is filled with wonderful people, many of whom I took for granted. As I look out into the faces of the congregation these days, I'm deeply moved by how much so many have meant to me. (I wonder if all pastors should make a quarterly discipline of taking their church rosters and offering detailed thanks for their people.) (Photo to right: the beach of Crystal Cove State Park. I can't take this to Texas, unfortunately.)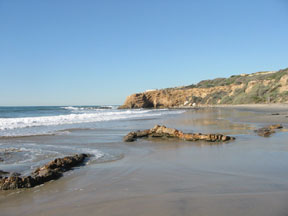 Since I can't go back and be more grateful, I can take time now to offer specific and extensive thanks to God. In fact, as soon as I finish this blog post, I'm going to do just that. I'm going on a long walk on my favorite beach so I can offer lengthy and detailed thanks to God. Plus, I can make a new commitment to being more grateful in the future. Recently I've been using some classic spiritual exercises (Ignatian) to remind me of God's gifts during the day. I need to do this more often, even on a daily basis.
Second, if I had it all to do over again, "I would believe God more." You'll notice that I put that last phrase in quotation marks. That's because it's not my line. It comes from Henrietta C. Mears, who was one of the most amazing Christians in the last century.
I knew much about Miss Mears because she had been the leader of the education department and college department at the First Presbyterian Church of Hollywood, where I as Pastor of Education and College Director. I heard much about Miss Mears, who had pretty much become a Protestant Saint among those who knew her. In fact, I made a point of studying Miss Mears' life, listening to her teachings on tape, and trying to imbibe her visionary faith.
Few people accomplished more for the kingdom of God in the 20th century than Henrietta C. Mears. Of course you might quickly think, "But what about Billy Graham? Or what about Bill Bright, founder of Campus Crusade for Christ?" Indeed, God used these men in amazing ways. But did you know that Henrietta Mears was crucial in their development as Christian leaders? God transformed Billy Graham's ministry while he was at a conference center founded by Miss Mears. And she led Bill Bright to Christ, discipling him into the kind of faith that led to Campus Crusade.
Among Henrietta Mears' accomplishments are:
• Building what was at that time the largest Sunday School in the country at the First Presbyterian Church of Hollywood.

• Inventing graded curriculum for Sunday School.

• Founding Gospel Light Ministries (now also Regal Books) to distribute her curriculum

• Founding Forest Home Christian Conference center.

• Being instrumental in the calling of hundreds of young people into full-time Christian service.

• Personally discipling and inspiring such leaders as Bill Bright, Billy Graham, and Richard Halverson (former Senate chaplain).
For health reasons, Miss Mears retired from her position at Hollywood Pres in the late 1950s. As she neared the end of her life, somebody asked her: "What would you do differently if you had it to do over again?" Her response: "I would believe God more."
What an amazing response from somebody who trusted God more than just about anybody in history! Yet Miss Mears knew that, no matter how much she had believed God, and how much He had been able to accomplish through her, she could still have trusted God more.
As I think back on my time at Irvine Presbyterian Church, I wish I had believed God more. I think of how many sleepless nights I spent worrying about church problems that God resolved in amazing ways. I remember how many Decembers I worried about whether the church would close the year in the black, something that happened sixteen out of my sixteen years. I wonder how much more God would have been able to do through me, and through the church, if I had had more faith in Him.
Like I said, I'm not groveling in self-criticism here. And there's no point bemoaning my former lack of faith. As in the case of gratitude, I can use these reflections to make a difference now and in the future. Even as I want to develop habits that will help me to be more grateful, I want to do the same with faith. Ironically, the kind of reflection that leads to growth in gratitude is the same kind of reflection that produces greater faith. It's all about attending more carefully to God's presence and activity each day.
Topics: Pastors and Churches |
3 Responses to "If I Had It To Do Over Again . . ."
Joe Arnett Says:
September 29th, 2007 at 7:43 am

I have been greatly blessed and encouraged by your blog over the last year and a half or so. I don't make many comments since I don't usually feel I have anything meanful to add. I writing this to wish you well in your new work and tell you that I will continue to keep you in my prayers. I will be looking forward to your words even though I don't reply or comment.
Best Wishes in Jesus Name,
Joe Arnett

Bill Goff Says:
October 2nd, 2007 at 12:09 pm

As a college student and member of the College Department at the First Presbyterian Church of Hollywood, I had the privelage of being acquainted with Miss Mears during the last years of her life. She was still active during the early 1960s when I was a student at UCLA. I distinctly remember meeting with her. She pulled her chair up to mine and completely focused on me during our conversation. It was a unique experience. Her attention to me made me feel very important and valued.
If I recall correctly, well over twenty young men decided to go into full-time Christian ministry because of Miss Mears' influence. I was one of the last of this number. I am grateful to have known her.

Tom Says:
December 23rd, 2007 at 12:15 am

Are you still using the Exercises? I have a copy of his book — it's definitely one of my favorites.
Comments
Thanks for your willingness to make a comment. Note: I do not moderate comments before they are posted, though they are automatically screened for profanities, spam, etc., and sometimes the screening program holds comments for moderation even though they're not offensive. I encourage open dialogue and serious disagreement, and am always willing to learn from my mistakes. I will not delete comments unless they are extraordinarily rude or irrelevant to the topic at hand. You do need to login in order to make a comment, because this cuts down on spam. You are free to use a nickname if you wish. Finally, I will eventually read all comments, but I don't have the time to respond to them on a consistent basis because I've got a few other demands on my time, like my "day job," my family, sleep, etc.
You must be logged in to post a comment.