« Inspiration from the Pray the Psalms | Home | The Mission of Jesus »
By Mark D. Roberts | Tuesday, August 28, 2007
Part 1 of series: The Mission of God and the Missional Church
Permalink for this post / Permalink for this series
Note: I began this series a couple of months ago, but became distracted by other issues. The content is important enough to warrant completion of the series. But if I simply picked up where I left off, many readers would miss the flow of the argument. So I'm going to repeat what I previously wrote, though at a quicker pace. Soon I'll get to the new material.
In my early teenage years, nothing captured my imagination like the television classic, Mission: Impossible. Intricate plots, dire situations, ingenious devices, split-second timing – all of these combined to keep me on the edge of my seat for 60 anxious minutes. If you're too young to remember the original television series, the recent Mission: Impossible films help to remedy your deprivation. But there are only three movies; there were 168 original episodes on TV.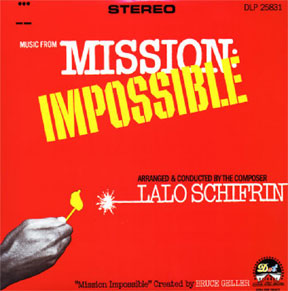 As the show began, Jim Phelps would play a tape that outlined some enemy plot crying out immediate attention. Only Mr. Phelps and his organization, the Impossible Mission Force (IMF), could remedy the desperate situation. Their assignment was perilous in the extreme. Failure would be disastrous, both for the world and for the IMF. If a member of the IMF were to be caught or killed, "the Secretary will disavow any knowledge of your actions." The taped voice gave Mr. Phelps the opportunity to accept or to reject the impossible assignment. Then it concluded with those famous words: "This tape will self-destruct in five seconds." Its smoky demise led straightaway into the show's memorable theme music. (To hear the famous song and see the opening for Season 3, click here. The picture to the right is the album of the Mission Impossible music.)
For the sake of high TV ratings, Mr. Phelps always accepted the assignment, gathered his team of experts, and with unequaled skill managed to defeat the forces of evil, usually situated in some rogue nation. The impossible mission turned out to be possible for the IMF, but just by the skin of their teeth. Chalk up another one for human ingenuity and technological sophistication!
As human beings we also face an impossible mission, but one that is truly beyond our potential. The problem: human sin and its results. The mission: to undo the dire effects of sin, to bring reconciliation between us and God, and to extend that reconciliation to all creation. In the quotable phrase of N.T. Wright, it's the mission of "putting the world back to rights." This mission's degree of difficulty? Utterly impossible. No amount of human cleverness, no collection of spiritual gizmos and disguises, will mend the breach between us and God, and heal all that is wrong with the world.
For limited and sinful creatures like us, overcoming sin and its results is indeed an impossible mission. "But with God everything is possible" (Matt 19:26). God alone can fix what we have broken. God alone can restore what is beyond our power. God alone can reconcile us to himself, and, as a result, bring reconciliation to a shattered world.
But, amazingly, God has chosen to use us for His mission. He has chosen us as members of His Impossible Mission Force. More accurately, we are part of God's Possible Mission Force. As believers in Jesus Christ, we have been drafted into the unique mission of God. To be sure, we cannot make reconciliation with God occur. That's God's job and he has accomplished it marvelously. Yet He has chosen us to be his agents of reconciliation who share in his mission of healing all creation (2 Cor 5:18-21). Because we experience intimate fellowship with God through Christ, we are also partners with him in his mission in the world.
What is God's mission? How does God accomplish that which is impossible for us? What should we do as members of God's mission force? How do we execute our assignment in the world? These questions are answered throughout the Scripture, which, thank God, does not self-destruct five seconds after we hear it!
Before I lay out our mission as God's people, I want to place that mission in a broad biblical context. We will best understand our task when we see it as an extension of God's mission in the Old Testament, that which is culminated in Jesus Christ.
Part 2 of series: The Mission of God and the Missional Church
Permalink for this post / Permalink for this series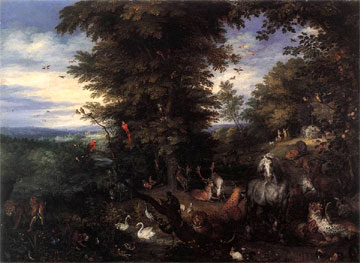 God created human beings so that we might have fellowship with Him and serve as faithful managers of His creation (Gen 1-2). God was to be the King who reigned over heaven and earth, and we were to be his royal family, those through whom He would implement His reign. (Picture to the right: "Adam and Eve in the Garden of Eden" by Jan Brueghel, 1610.)
Yet we sinned against God, disobeying Him because of our prideful desire to equal to Him. We were not satisfied with fellowship with the King as His prince and princess. We wanted to be king and queen ourselves. Our sin was not some minor peccadillo, something a holy God could simply ignore, but rather outright rebellion against His reign. The result of sin was pervasive brokenness, in our relationship with God and with each other and in creation itself (Gen 3). We shattered the gift of divine fellowship and the perfection of God's world.
From the moment of the first sin, human beings have tried to evade its implications. We have made excuses. We have tried to earn our way back into God's favor. But no human scheme ever works. Only God can mend that which we have broken. And that is exactly the mission He graciously adopts: to reconcile us to Himself, to one another, and to bring reconciliation to creation. Reconciliation, therefore, is the means by which God will restore the fellowship that was broken through sin. Even though we have rebelled against Him, God still wants us to have fellowship with Him and to serve as stewards of His renewed creation.
God begins to fulfill His mission by forming a special people – Israel – with whom He will have intimate relationship and through whom He will bless all nations (Gen 12:1-3; Exod 19:3-6). He reveals His gracious nature to the Israelites and rules over them as their king (Exod 34:4-7; Judg 8:23). But they repeatedly rebel, rejecting God as king and preferring to serve idols (1 Sam 10:19; Ezek 20:16).
What seems like an irreparable setback in God's plan, however, in fact prepares the way for the crucial step in Hiw reconciling program. God uses the occasion of Israel's rebellion to make promises of His future reconciliation. "Someday," the Lord says through his prophets, "I will restore my chosen nation and, in the process, reach out to all nations on earth." God will save His chosen people from their distress through a unique individual who will extend divine salvation to the ends of the earth (Isa 49:6). This unequaled Savior will be the suffering Servant of God, who bears the sin of all humanity, offering His life for us so that we might be made whole as we are reconciled to God (Isa 53). Centuries before God's Redeemer comes, the Jewish prophet Isaiah speaks words that will one day fill His mouth:
The Spirit of the Sovereign Lord is upon me, because the Lord has appointed me to bring good news to the poor. He has sent me to comfort the brokenhearted and to announce that captives will be released and prisoners will be freed. He has sent me to tell those who mourn that the time of the Lord's favor has come (Isa 61:1-2).
In that time of favor, God will remove the plague of sin and restore His rightful reign upon the earth. That which has been damaged because of sin will be mended, as God reconciles people to Himself and to each other. It will be a day of great rejoicing, as Isaiah acknowledges:
How beautiful on the mountains are the feet of those who bring good news of peace and salvation, the news that the God of Israel reigns! The watchmen shout and sing for joy, for before their very eyes they see the Lord bringing his people home to Jerusalem. Let the ruins of Jerusalem break into joyful song, for the Lord has comforted his people. He has redeemed Jerusalem. The Lord will demonstrate his holy power before the eyes of all the nations. The ends of the earth will see the salvation of our God (Isa 52:7-10).
Someday God will reign! God's people will be comforted and reconciled to their Creator. God's salvation will reach even to the ends of the earth.
In my next post I'll connect this Old Testament mission of God to the ministry of Jesus.
Topics: Mission |
2 Responses to "Mission Impossible and the Mission of God in the Old Testament"
interesting sites I've seen « words that bless Says:
August 28th, 2007 at 6:02 am

[…] Mission Impossible and the mission of God in the Old Testament (part one of a series) http://markdroberts.com/?p=174 […]

real live preacher Says:
August 28th, 2007 at 1:41 pm

Hey Mark,

I appreciate the clarity of this. It's a nice summary of a Christian view of the Old Testament.

I certainly struggle with the Old Testament in the context of church and Bible studies. Ironically, sometimes the difficulties arise when people start actually reading the Old Testament. Parts are pretty bloody, and some of it seems to come from God's command. I know I'm asking a tough question - one that I get a lot as a pastor - but I wonder how you handle that subject. You know, "Pastor, why did God tell them to kill everyone in Jericho, even the women and children?"
Comments
Thanks for your willingness to make a comment. Note: I do not moderate comments before they are posted, though they are automatically screened for profanities, spam, etc., and sometimes the screening program holds comments for moderation even though they're not offensive. I encourage open dialogue and serious disagreement, and am always willing to learn from my mistakes. I will not delete comments unless they are extraordinarily rude or irrelevant to the topic at hand. You do need to login in order to make a comment, because this cuts down on spam. You are free to use a nickname if you wish. Finally, I will eventually read all comments, but I don't have the time to respond to them on a consistent basis because I've got a few other demands on my time, like my "day job," my family, sleep, etc.
You must be logged in to post a comment.