« Sunday Inspiration from The High Calling | Home | A Fine Church in Austin »
By Mark D. Roberts | Monday, January 25, 2010
Several months ago I introduced the Theology of Work Project. The context for this introduction was my having been invited to participate in one of their projects. As a building block in the formulation of a definitive statement of the theology of work, the TOWP is preparing an in-depth biblical commentary that discusses every part of Scripture that applies to our work. I was asked to write the section on Ezra, Nehemiah, and Esther, which I completed last fall.
As it turns out, they liked my work enough to give me another chunk. Now I'm going to examine the theology of work in Galatians, Ephesians, and Philippians. I'm not looking specifically at the question of "works," that is, whether we are saved by works or faith, or how works fit into the Christian life. The issue of works will be relevant to the conversation, but my primary focus is on the question of work, that is, what we do in this world, our productivity, our vocations, our obedience as human beings to the command of God to "be fruitful and multiply and fill the earth." I'll be wondering how Paul's theology in Galatians, Ephesians, and Philippians speaks to us about our daily work, both our jobs and our non-paid efforts.
Some of my blogging in the next couple of months will be focused on this assignment. You won't be getting the final product, but you will get many of the nuts and bolts.
For those of you who are unfamiliar with the Theology of Work Project, I want to put up once again a description of this endeavor that appeared on my blog several months ago. This will help me explain why I'm excited about TOWP, and therefore why I am going to be partnering with them once again.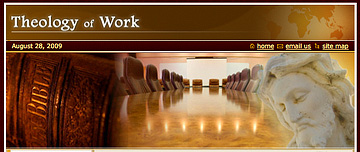 TOWP grew out of a conviction by several Christian leaders that one of the most important contexts for disciples of Jesus to live out their faith is the workplace. Yet these leaders sensed that, for millions of Christians, faith and work are separate realms. As they shared their vision with others, in time, several influential leaders joined them, including Dr. Haddon Robinson of Gordon-Conwell Theological Seminary and Tom Phillips, former CEO of Raytheon.
This expanded team contacted over 130 leading Christian thinkers, academics, workplace ministry professionals, and Christian workers around the world, asking if they sensed a need for a theology of work. Surprisingly, over 95% of those who had been contacted responded, with unanimous support for the development of a theology of work.
As the instigators of the project continued to push ahead, they formed a governing board of what is now called the Theology of Work Project. Serving on this board were such people as: Haddon Robinson, Tom Phillips, Daniel Byrd (professor of management at Claremont University), Katherine Leary (Exec. Dir. for Center of Faith & Work at Redeemer Presbyterian in NYC), Sean McDonough (Assoc. Prof. of NT, Gordon-Conwell), and Dave Williamson (then the Director of Laity Lodge). Of course now you can see how I got connected to this project. Dave Williamson was one of my predecessors at Laity Lodge, and, in fact, the person who first got me connected with what is now my official ministry and my unofficial passion. The TOWP has a recently-appointed Executive Editor, Dr. William Messenger. Will has extensive experience in business, the academy, and the church. He earned a BS in Physics (Case Western), an MBA (Harvard), an MDiv (Boston U), and a D.Min. (Gordon-Conwell). With his broad experience and theologically-solid vision, Will is the perfect leader for the TOWP at this time. (Now that I have worked with Will on my Ezra, Nehemiah, Esther material, I can say this with even more conviction. Will is a perceptive theologian and a fine writer. He's also a perceptive but kind editor. Here are links to a two-part interview of Will that appeared on TheHighCalling.org: Part 1; Part 2.
What is the purpose of TOWP? Here are some excerpts from their website:
• They seek to "empower the Body of Christ at every level–from individual believers to institutions like the local church–to engage workplaces, and through them, the broader cultures at large, in transformational fashion."

• They intent do "to bring together scholars and practitioners in a coalition aimed at building consensus around fundamental truths contained in a Theology of Work consistent with orthodox historical Christianity."

• In the end, they want "to help workers perceive God's purpose, meaning, and value in their work, and to bring Christ's redeeming power into the fabric of their workplaces."

• "[TOWP] has a five-year mission to produce biblical, theological and topical materials for equipping Christians to make use of the principles and resources of the Christian faith in their daily work. It is further engaged in collecting in one place reliable research materials to aid others - including pastors, ministry professionals, Biblical scholars and teachers, and workplace practitioners - in producing materials useful to Christians in their work lives."
TOWP seeks to fulfill this purpose through the following objectives:
(1) To assemble a Steering Committee of the most able members of its key constituencies, namely biblical scholars, theologians, ethicists, economists and organizational scientists, workers, and workplace ministers;

(2) To produce a Theology of Work that is as broadly acceptable as possible, being relevant for every kind of workplace around the world, and meeting the approval of the full spectrum of traditions within the orthodox/historical Christian faith; and,

(3) To disseminate the Theology of Work as widely as possible, to reach the millions of people who may benefit from it.
I have been asked to contribute to this project, specifically in reference to the second objective. On the way to producing a Theology of Work, the TOWP is doing an extensive and intensive study of the entire Bible, seeking for God's wisdom with respect to work. This study, a kind of biblical commentary, will be published as a helpful tool, and will also be used a grist for the mill that produces the Theology of Work, a statement to be endorsed by a wide range of Christian leaders throughout the world (rather like the Lausanne Covenant, if you're familiar with that document).
This time around, my assignment is to examine the biblical books of Galatians, Ephesians, and Philippains, writing a brief commentary on each of these books that highlights how they inform our theological understanding of work.
As I work my way through these books, I'm going to offer some insights and reflections here in my website. I won't be publishing here what I will submit to TOWP. But I will put up some of my thoughts in a more unpolished and speculative. I'm doing this partly to be a good steward of my time. But I'm also interested in input from my blog readers. I look forward to working in community with you as we think together about how Galatians, Ephesians, and Philippians inform our theological understanding and practice of work.
Topics: Theology of Work Project |
2 Responses to "Reintroducing the Theology of Work Project"
Ray Says:
January 26th, 2010 at 8:26 pm

I wonder…do we in today's western culture have a different concept of "work" than other contemporary cultures? Or than the biblical authors?

It just seems to me that it is so easy for us to compartmentalize so many aspects of our lives. For example, we have our "church" friends and our "work" friends. We have our "religious" beliefs, and we have our "political" beliefs. And so on, and so on.

Do other cultures have so many boundaries? And what about the viewpoint of the biblical authors? How would their outlook on things be different than ours?

I'm not asking this rhetorically, but becuase I really don't know. It would be interesting to explore this topic across history and across cultures to get a more complete understanding of how I am "called" to my particular vocation, especially since my calling is to a so-called secular station.

J.Falconer Says:
February 4th, 2010 at 3:20 pm

Rev Roberts & Fellow Posters, Evan & Ray make excellent contributions!! Thank you very much. Secular work projects can be extremely challenging on the faith front. Just the budget is a major challenge for many concerning home & work projects. After work research projects, I like to surf resort areas for a brief time out. Hawaii & Caribbean daydreaming is sure not travel or living in paradise but it provides a much needed respite with modern challenges and the times we're all in. Thanks for all of your posts & contributions & this website to recharge our faith batteries! Happy New Year–especially to the Californians & Texans. Notice I placed the West in front of the South. Regards j & family
Comments
Thanks for your willingness to make a comment. Note: I do not moderate comments before they are posted, though they are automatically screened for profanities, spam, etc., and sometimes the screening program holds comments for moderation even though they're not offensive. I encourage open dialogue and serious disagreement, and am always willing to learn from my mistakes. I will not delete comments unless they are extraordinarily rude or irrelevant to the topic at hand. You do need to login in order to make a comment, because this cuts down on spam. You are free to use a nickname if you wish. Finally, I will eventually read all comments, but I don't have the time to respond to them on a consistent basis because I've got a few other demands on my time, like my "day job," my family, sleep, etc.
You must be logged in to post a comment.