« Check out TheHighCalling.org! | Home | THE BIRDS in Texas »
By Mark D. Roberts | Wednesday, November 11, 2009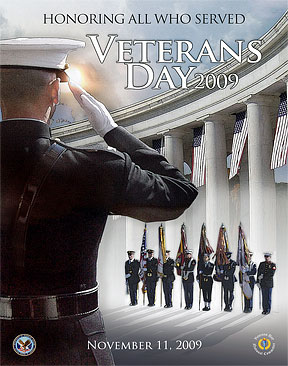 Today is Veterans Day, a day set aside to honor those who have served in the armed forces of our country. Once known as Armistice Day, to commemorate the armistice that brought an end to the hostilities in World War 1, Veterans Day came into being in 1954 when Congress changed the name so that November 11th would be an occasion to remember all veterans. (Note: Officially, the name is "Veterans Day" not "Veterans' Day," since it is a day for Veterans, not belonging to them. Also, Veterans Day is meant to honor all who served in the military, in wartime or peacetime.)
This year, the celebration of Veterans Day is especially poignant, given the recent tragedy at Fort Hood. We are reminded of the courage of all who serve in the armed forces, as well as their willingness to put their lives on the line for our freedom.
President Obama has issued a proclamation, calling upon all citizens to recognize and care for our veterans. I thought I'd reproduce this proclamation here:
VETERANS DAY, 2009
BY THE PRESIDENT OF THE UNITED STATES OF AMERICA
A PROCLAMATION
We have a sacred trust with those who wear the uniform of the United States of America. From the Minutemen who stood watch over Lexington and Concord to the service members who served in Iraq and Afghanistan, American veterans deserve our deepest appreciation and respect. Our Nation's servicemen and women are our best and brightest, enlisting in times of peace and war, serving with honor under the most difficult circumstances, and making sacrifices that many of us cannot begin to imagine. Today, we reflect upon the invaluable contributions of our country's veterans and reaffirm our commitment to provide them and their families with the essential support they were promised and have earned.
Caring for our veterans is more than a way of thanking them for their service. It is an obligation to our fellow citizens who have risked their lives to defend our freedom. This selflessness binds our fates with theirs, and recognizing those who were willing to give their last full measure of devotion for us is a debt of honor for every American.
We also pay tribute to all who have worn the uniform and continue to serve their country as civilians. Many veterans act as coaches, teachers, and mentors in their communities, selflessly volunteering their time and expertise. They visit schools to tell our Nation's students of their experiences and help counsel our troops returning from the theater of war. These men and women possess an unwavering belief in the idea of America: no matter where you come from, what you look like, or who your parents are, this is a place where anything is possible. Our veterans continue to stand up for those timeless American ideals of liberty, self-determination, and equal opportunity.
On Veterans Day, we honor the heroes we have lost, and we rededicate ourselves to the next generation of veterans by supporting our Soldiers, Sailors, Airmen, Marines, and Coast Guardsmen as they return home from duty. Our grateful Nation must keep our solemn promises to these brave men and women and their families. They have given their unwavering devotion to the American people, and we must keep our covenant with them.
With respect for and in recognition of the contributions our servicemen and women have made to the cause of peace and freedom around the world, the Congress has provided that November 11 of each year shall be as a legal public holiday to honor our Nation's veterans.
NOW, THEREFORE, I, BARACK OBAMA, President of the United States of America, do hereby proclaim November 11, 2009, as Veterans Day. I encourage all Americans to recognize the valor and sacrifice of our veterans through appropriate public ceremonies and private prayers. I call upon Federal, State, and local officials to display the flag of the United States and to participate in patriotic activities in their communities. I call on all Americans, including civic and fraternal organizations, places of worship, schools, and communities to support this day with commemorative expressions and programs.
IN WITNESS WHEREOF, I have hereunto set my hand this thirtieth day of October, in the year of our Lord two thousand nine, and of the Independence of the United States of America the two hundred and thirty-fourth.
BARACK OBAMA
A few years ago, I put up a special prayer for Veterans Day. It was based on a prayer I found on the Presbyterian Church (USA) website, to which I added a few phrases (italics). I'll close today's post by reproducing that prayer here:
God of the ages,

We thank You for all who have served in the armed forces of this country.

We thank You for the freedom their sacrifice has earned and guarded for us. Help us to prize this freedom and use it well.

We ask You to bless all living veterans in a special way today, as well as the families of all veterans.

Comfort those who grieve for those who gave the last full measure of devotion.

Strengthen those who bear physical, emotional, and spiritual wounds.

Stand with those who provide care to them.

Move us to reach out to sisters and brothers who are veterans, or relatives of veterans, or who currently serve in the military.

We pray for the day when no one needs to serve in the military. Help us to live now in anticipation of that day, as people who long for peace, who pray for peace, and who seek to be peacemakers in this world.

We pray in Jesus' name. Amen.
Topics: Holidays |
3 Responses to "Honoring Veterans Today"
Tim Cook Says:
November 11th, 2009 at 9:52 am

Thanks, Mark. Your appreciation for vets and the military was a welcome change at IPC, and it has continued unabated.

Ray Says:
November 11th, 2009 at 6:21 pm

Mark, I'm sure you spent a lot of time today thinking about your father in law, Bill Swedberg. From what you wrote about him a few weeks ago, he reminds me of my own father in law. I'm lucky to still have him on this side of eternity.

Today he participated in his town's Veterans Day ceremony at the American Legion hall. The local high school ROTC presented the colors. After the program he took all of the ROTC guys out back and showed them his M1 Garand. He explained the weapon, along with its service history, and then he let each one of them fire a blank round with it. That's hands-on history you can't get in a classroom. I have to laugh…earlier in the day he had paid a visit to the police chief and told him, "Look, it's Veterans Day, and I'm going to be firing a few rounds over in back of the Legion hall. If you get a report of shots fired I don't want a bunch of police cars showing up with their sirens blaring."

You know, every six or eight weeks or so he tells me about another funeral in which he fired a salute or folded a flag. I worry that we're losing an extremely valuable and irreplaceable resource as his generation passes away.

May God truly bless all of our fathers and fathers in law. They have definitely blessed us.

Happy Veterans Day.

J.Falconer Says:
November 12th, 2009 at 6:19 am

Rev. Roberts & Ray., It's always been a challenging world for world peace & other challenges. Thank you both so much for remembering all generations& the military for trying to promote peace in an uncertain world. Are the Pens mightier than the Swords?? We'll see. Thanks again Ray for lofty memorials to present fathers & others present in this life or gone on to an easier place. Peace j & family
Comments
Thanks for your willingness to make a comment. Note: I do not moderate comments before they are posted, though they are automatically screened for profanities, spam, etc., and sometimes the screening program holds comments for moderation even though they're not offensive. I encourage open dialogue and serious disagreement, and am always willing to learn from my mistakes. I will not delete comments unless they are extraordinarily rude or irrelevant to the topic at hand. You do need to login in order to make a comment, because this cuts down on spam. You are free to use a nickname if you wish. Finally, I will eventually read all comments, but I don't have the time to respond to them on a consistent basis because I've got a few other demands on my time, like my "day job," my family, sleep, etc.
You must be logged in to post a comment.